I haven't done a personal post on my blog for a while, at least not one containing general updates about the growing family, so I feel that it is high time for one.
Baby Update
First is the questions about our coming baby… We have not looked at the gender of our child again, but as mentioned before the doctor says he thought it was a boy (70% sure) so we are preparing boyish and gender neutral clothing and toys for our child. The nurses at the clinic are happy with the progress. Our baby is still on the lower side of the normal range, but that is to be expected since I am a small person.
I am getting large and I have noticed that shops have a severe lack of maternity clothes, especially ones in my "style". I have been looking for baby-doll dresses, but they don't seem to be in fashion this season. Sleeping through a whole night is near impossible due to bathroom breaks. There are days when I am so exhausted I just want to stay in bed all day. The Braxton Hicks contractions have started, thankfully they are not too frequent yet, only once or twice a day, and the baby is very active, especially at night.
I am taking it easy and not forcing myself to work through all the stuff on my checklists (which are extensive) and focusing only on the "Must Do" items. I am allowing myself plenty of leeway when it comes to household chores, and Mark has been cooking supper most nights as being on my feet for more than 20-30 minutes it tiring for me.
Baby Shower
The Baby Shower was this past weekend (7 March 2015). We had loads of fun. Mark and I decided to break from tradition and do a combined baby shower with men and women together. We chose this because I am not a complete girly-girl and because Mark and I are so close I couldn't imagine not having him involved in the event, along with some of his friends who I am also close to.
My friends discovered that I am terrible at facial recognition (something I already knew), because I couldn't match childhood photographs to the people who attended the shower! That was the only game that was played with me. Mark got it a lot worse. He had a few questions to answer and for each one he got wrong his brother gave him a shot of Vodka. Now, Vodka is Mark's Achilles Heal, and while he can handle most other alcohol, Vodka get's Mark drunk very quickly. Thankfully Mark doesn't get any negative personality traits while drunk (some people fight, cry or become way too talkative), he just wants to lie down and go to sleep. So we called it an early night and I took him home an hour after the games.
Some people may ask the reason for the drinking games with Mark, well his brother's reason was that parenthood is hard and requires a great deal of responsibility, so in essence this is the last time Mark get's to be irresponsible so he might as well make use of it.
Here are some pictures of the event, which took place at my in-law's house: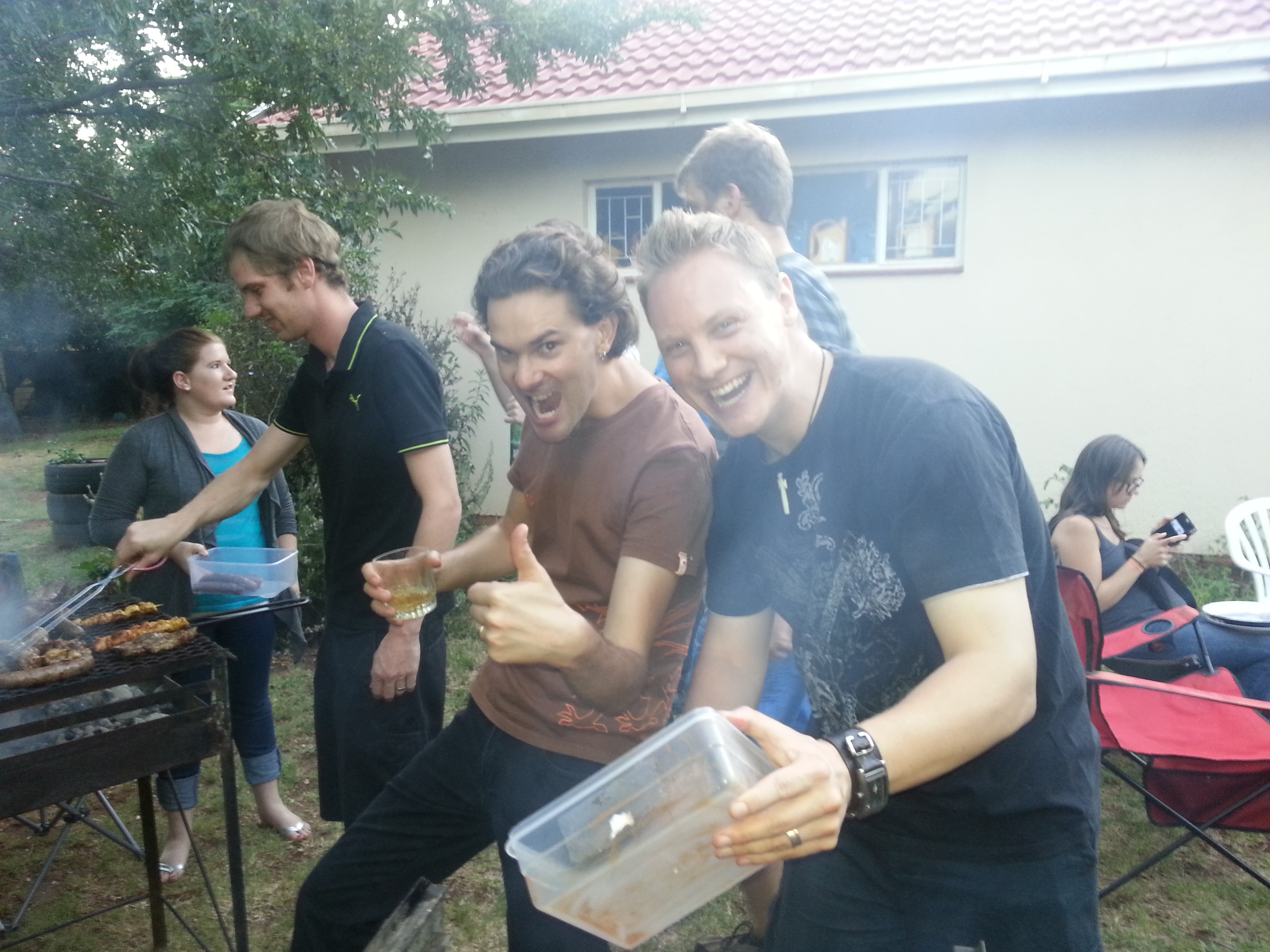 Overall, I had a lot of fun and I want to thank all the people who were involved in the event, especially those who drove so far to join us.
Getting the Baby Room ready
I have started nesting and I am eager to get the baby room ready for our coming child. I spent yesterday washing all the baby clothes I received at the Baby Shower, and I repacked the cupboards of the (former) spare bedroom to make room for baby clothing, nappies, toiletries etc. Unfortunately I was only able to clear out 4 of the 8 shelves. I am working on the others. I still have no idea what to do with the coats and jackets that are hanging in that cupboard as they won't fit into our bedroom cupboard. At least I don't need that space just yet.
The single bed is still in the room, mainly because my mom will be visiting in April and will need a place to sleep. We do have a camping cot setup and are going to make room for it next to our bed.
The computer is out of the baby room, and now setup on a small desk in the living room. The laundry and cleaning supplies also have their own homes in other parts of the house now.
I also repacked the baby's hospital bag and my own hospital bag, which are currently in the camping cot and ready to go when the time comes. I know that baby is only due in 7 weeks, but I would rather have the bags ready early and not need them, than not have them ready and need them!
The next step in preparing the baby room is to remove the large desk and bring the small chest of drawers from my in-law's house. This will be used as a changing table since it is exactly the right height for me.
I am so grateful for the gifts that I received for the baby, it allowed a lot to be ticked off my list of stuff that needs to be bought. I am most grateful for the vouchers and cash that was given, mainly because I was able to put it all together to buy more expensive items like the camping cot and a breast pump when combining them together. I am also grateful for the generosity of the people who have given us second-hand from their own children, especially for items that baby's outgrow within a year, but are required for the first year.
We have everything that is a "Must Have" now, everything else we can make do without if we need to.
I'll share my Baby Preparation checklist in another post after the baby is born and I am sure that I haven't missed anything.
2 Year wedding Anniversary
We didn't go away this year, like we did the year before. This decision was made because of the Baby Shower happening so close to our wedding anniversary and because I am not keen on travelling too far because of the pregnancy. The last thing I want is to go into labor in a strange town with a hospital I am unfamiliar with.
We did have a nice afternoon shopping for baby stuff together, and our normal yearly talk about our marriage in the evening after supper. So far so good! One point that we both feel strongly about is that we need to make time to do things together (just the two of us) more often, as we have both started slipping up on that. We either do stuff alone, or with friends. Both of these are good and needed, but we also need to make time to do things as a family once the baby arrives, and just the two of us. This is what we will be working on in the coming year.
As far as work is concerned…
I am still LOVING working with my husband in his business. I still won't change it. I am becoming a jack of all trades. I am communicating with clients, updating websites, writing articles, tutoring programming students, making coffee/tea, organizing projects and doing a little social media marketing and graphics designing. I adore the variety as it prevents me from getting bored by working on the same thing all the time. I also love that we are working with many different designs, products and clients, and many of the clients are doing what they love.
There are days when I am more in the mood to stay home and get things done around the house (like yesterday), and since all my work was up-to-date I was able to do that.
And as far as cash-flow, we are breaking even each month, and that is all that counts! A person cannot buy happiness.