I thought I would bring you a full, graphic based, Bullet Journal Flip Through for the month of December 2017. This way you can look at what you want to see much quicker and don't have to wait until a video reaches that point.
I am using a Leuchtturm1917 Medium Size Hardcover A5 Notebook – Dotted Pages – Black
and Staedtler Triplus Fineliner Pens – Easel Case Set of 10
What worked for me in December 2017 and alterations for January 2018
Switching from a monthly spread to Weekly Spreads at the beginning of the month is definitely working for me. I like the calendar and notes at the top of each page.
The Steps and water tracker really worked well for me. I will just be taking out the KM and time next month.
I loved my Thank You Jesus gratitude log. I just wish I remembered to fill it in!
The spend tracker is still my favourite, but I have decided to try something different in January 2018
What didn't work for me in December 2017 and the changes I'm making in January 2018
The layout of the weekly spread hasn't been working for me, so I have decided to change it a little in January.
My routines tracker got ignored. I keep forgetting to fill it in. The main reason I forget is because I update my Bullet Journal in the morning, but I haven't got around to it when I oversleep. This was happening a lot when I was trying to get up at 3:15am. And at 5:30am my son was already awake. I've adjusted my sleep so that I get up at 5am. I'm hoping this will work for January.
I fell of the prayer wagon this December. I really struggled to get the dedicated time to do it. Similar reason to above, I overslept, then my son was already up. I'm now trying to have my prayer time at night after my children go to sleep.
I was expecting myself to get too much done in a day with regards to my daily work routine. I've now decided that instead of starting at the top each day, I will start where I left off the previous day.
I decided I'm keeping track of my goals and rewards in an spreadsheet from January. That way I can alter the rewards more easily if I need to.
Full Bullet Journal Flip Through for December 2017 with comments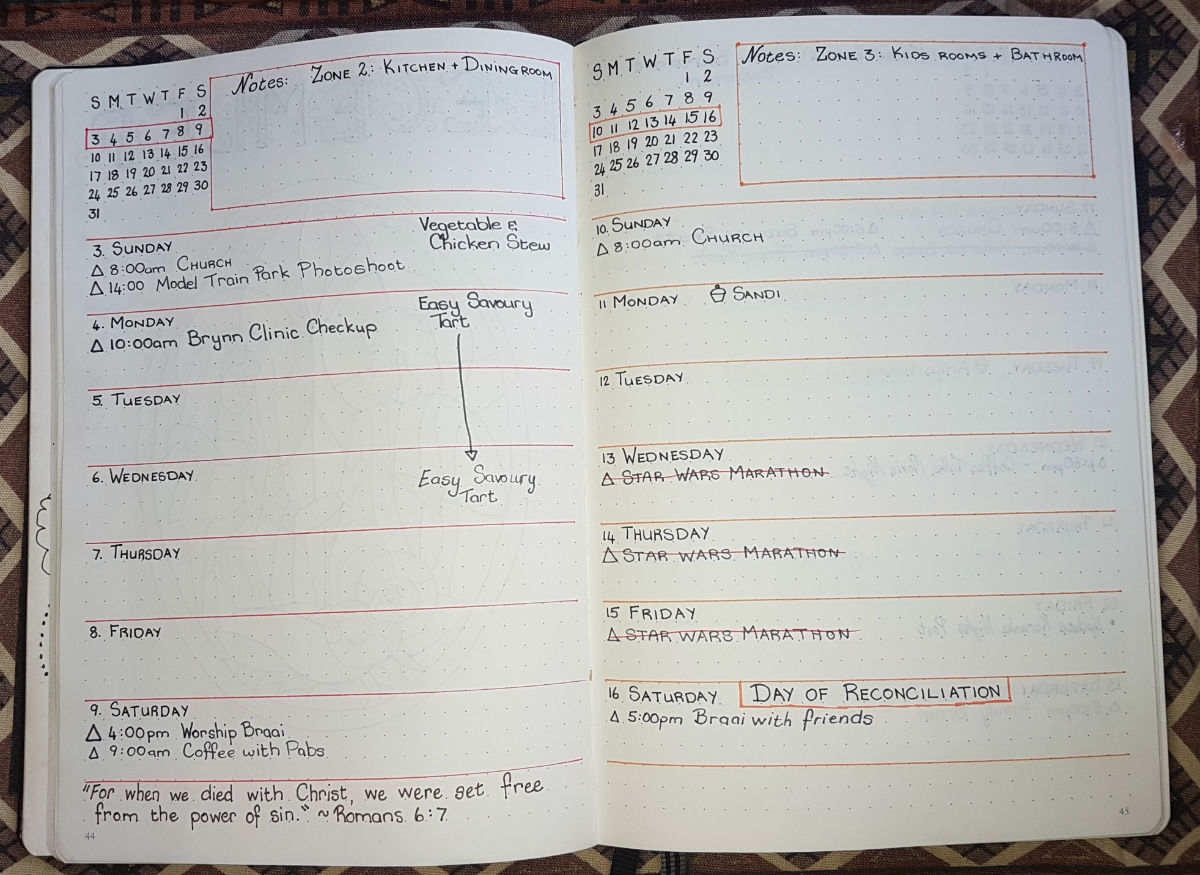 ---
Disclaimer: I am a participant in the Amazon Services LLC Associates Program, an affiliate advertising program designed to provide a means for me to earn a small fee by linking to Amazon.com and affiliated sites. I will never promote a product that I do not use and love..