I am so excited to start September with my Bullet Journal Setup. This month I went with the theme "Be a ray of sunshine". Like always, my Bullet Journal has a Christian theme to it because I am a Christian. I have scattered reminders for myself and across the pages.
Plan with me: Bullet Journal Setup – September Video
Here is September's plan with me video where you can see the setup of my Bullet Journal (x10 speed):
Plan with me: Bullet Journal September Gallery
Here are the photo's of my finished setup for September:
Walkthrough each page of my Bullet Journal September Setup
September Cover Page
I really enjoyed making this cover page. The inspiration came from my daughter's daily devotional book. Since September marks the beginning of spring here in South Africa, the sunshine theme was so suitable for this month.
The bible verse for the cover page is:
God made two great lights – the larger one to govern the day, and the smaller one to govern the night. He also made the stars. – Genesis 1:16
This verse was also a fitting choice because I am currently reading Genesis again.
My motto for the month is "Be a ray of sunshine".
September Monthly Spread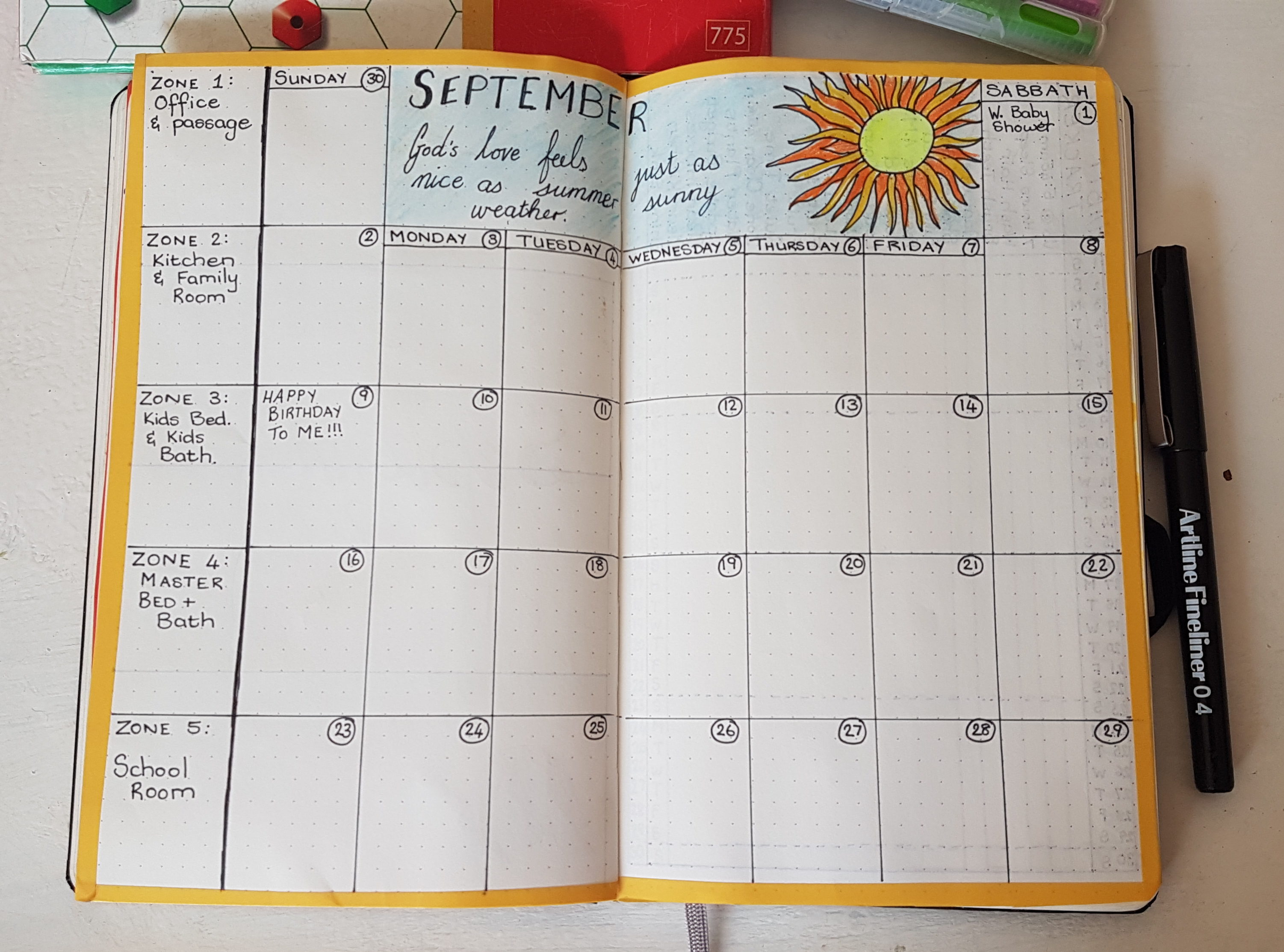 I made a mistake when I first started drawing my monthly spread. I made 4 weeks instead of 5. This caused me to stick 2 pages of my Bullet Journal together and make a yellow washi tape border around my September Monthly Spread.
This month I changed up my layout a little and put my Weekly Cleaning Zones in the first column. I found that I didn't use the expense column last month.
Once again I continued with the Sunshine theme and included a sun and the words:
God's love feels just as nice as summer sunny weather.
September Habit Tracker, Cycle Tracker and Mood Tracker
I've included more items in my habit tracker this month. I also have a cycle and mood tracker (although I didn't label those).
Below my habit tracker I included a short prayer (also taken from my daughter's devotional book). It is a reminder of my motto for the month, and I hope to say it as a short prayer each time I look at my habit tracker (and fill in my mood tracker). The prayer is:
Jesus, I want to be your sunshine child. Amen
September Sleep Log and Health Tracker
I hope to fill in my sleep tracker and health tracker more reliably this month now that my smart watch has been fixed. My aim is to be in bed by 9:30pm and to get up at 5:45am.
I am once again trying to get into the habit of drinking 8 glasses of water a day, walking 10000 steps a day, and hopefully starting on Zombies Run again.
Something new is that I am also trying to eat more fresh fruits and vegetables. My goal is to eat one vitamin C rich fruit per day, one other fruit per day, one raw vegetable per day (usually a green vegetable), one orange vegetable per day and one other vegetable per day. I also want to make sure I get one serving of protein (egg, fish, red meat, beans etc). I have been neglecting my own health lately and I really need to put a focus back on it.
September Weather, Sun and Moon tracker
Lastly, and this is just a little interest of my own, I like tracking the weather, sunrise and moon phase. I started doing this in September 2017 when I did a little research on the Jewish Calendar. That gave me a fascination with astronomy, and I have been dabbling in it since then.
This fascination of mine was inspired by the verse that I included on the page:
And God said, "Let there be lights in the firmament of the heavens to separate the day from the night; and let them be for signs and for seasons and for days and years," – Genesis 1:15
What does your September Bullet Journal look like?
I would really like to connect with you and see your Bullet Journal for September. Please leave a comment and share your Instagram account or blog post about your Bullet Journal.
If you liked this post, don't forget to subscribe and follow me on YouTube and Instagram.